Driver's License
.: Suspended or Revoked?
.: Adult Drivers
.: Hardship License
.: Ignition Interlock System
.: Regaining Your Driving Privileges
.: Helpful Links

Suspended or Revoked?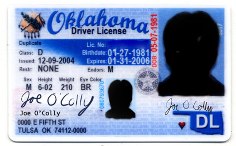 A

suspension

is a temporary loss of the privilege to drive. The State may reinstate your driving privileges after a certain amount of time or by the payment of a fee.

In some cases, you may be able to restore your driving privilege by taking care of a particular issue, such as the purchase of liability insurance.



Revocation

is a way to both discipline a driver and to protect the public. If your license is revoked, it means that you are no longer allowed to drive. A revoked license is usually permanent for a pre-determined period of time as set by law.

You could be required to re-take the driver's license knowledge and skills test and there may be a court hearing regarding the reinstatement of your license.




Adult Drivers

Oklahoma has a stringent policy on license revocations. Any of the infractions listed below will automatically result in the immediate revocation of your driver's license for a period of six months to three years:


You may also be subject to revocation of your driver's license if you are convicted of multiple traffic violations. Oklahoma has a mandatory point system, where points are accumulated against your record for moving violations.


Depending on the circumstances of your license suspension or revocation, you might be able to get a hardship license. This license allows you to drive with limitations, including:


To and from work
To and from alcohol treatment
To and from church
During daylight hours only

To get a hardship license, you might be required to install an ignition interlock system in your vehicle (see below). Call (405) 425-2098 to find out more about hardship licenses.




---
* These pages contain hypertext links to information created and maintained by other public and private organizations. These links provide additional information that may be useful or interesting and are being provided consistent with the intended purpose of the Community Sentencing Web site. This website does not control or guarantee the accuracy, relevance, timeliness, or completeness of this outside information.